In my family, we love music. Since my kids have been little we have been exposing them to different styles of music and musical performances. It's no surprise that my son jumped at the chance to play an instrument when he had the opportunity at school. Music makes him happy. It's truly an important part of who he is. When COVID-19 hit, this important part of his life was put on hold and he wasn't able to participate in any formal music training. He started dabbling with the keyboard we have and began translating his cello music into piano music. To say I was impressed is an understatement. It was then that I heard about an opportunity with Music & Arts and their private music lessons.
Ironically enough, Music & Arts also happens to be where we rent his school instrument, but I never really looked into any of their other offerings. Finding out that we could have a personalized lesson that would be able to meet his needs and schedule was perfect! Did I mention it is virtual as well? I couldn't ask for a better opportunity. He was really interested in taking formal keyboard lessons so that he can learn the proper fingerings and way to play. Music & Arts was happy to pair us up with an experienced piano instructor who was excited to take on my son as a student. The lessons are also flexible to our schedule which is very important to us as a busy family juggling multiple schedules.
From the moment the lesson began, the instructor talked with him to learn what he knew already about the keyboard, reading music, and music in general. Coming from large group lessons, this was a HUGE benefit for him. Now the lesson was going to be customized to fit his needs and learning pace. Giving him the opportunity to play music in a structured environment again has been more beneficial than I expected. I see the spark and excitement for music again that he has been lacking for the last 6 months. He is playing all the time on his own and loving every minute.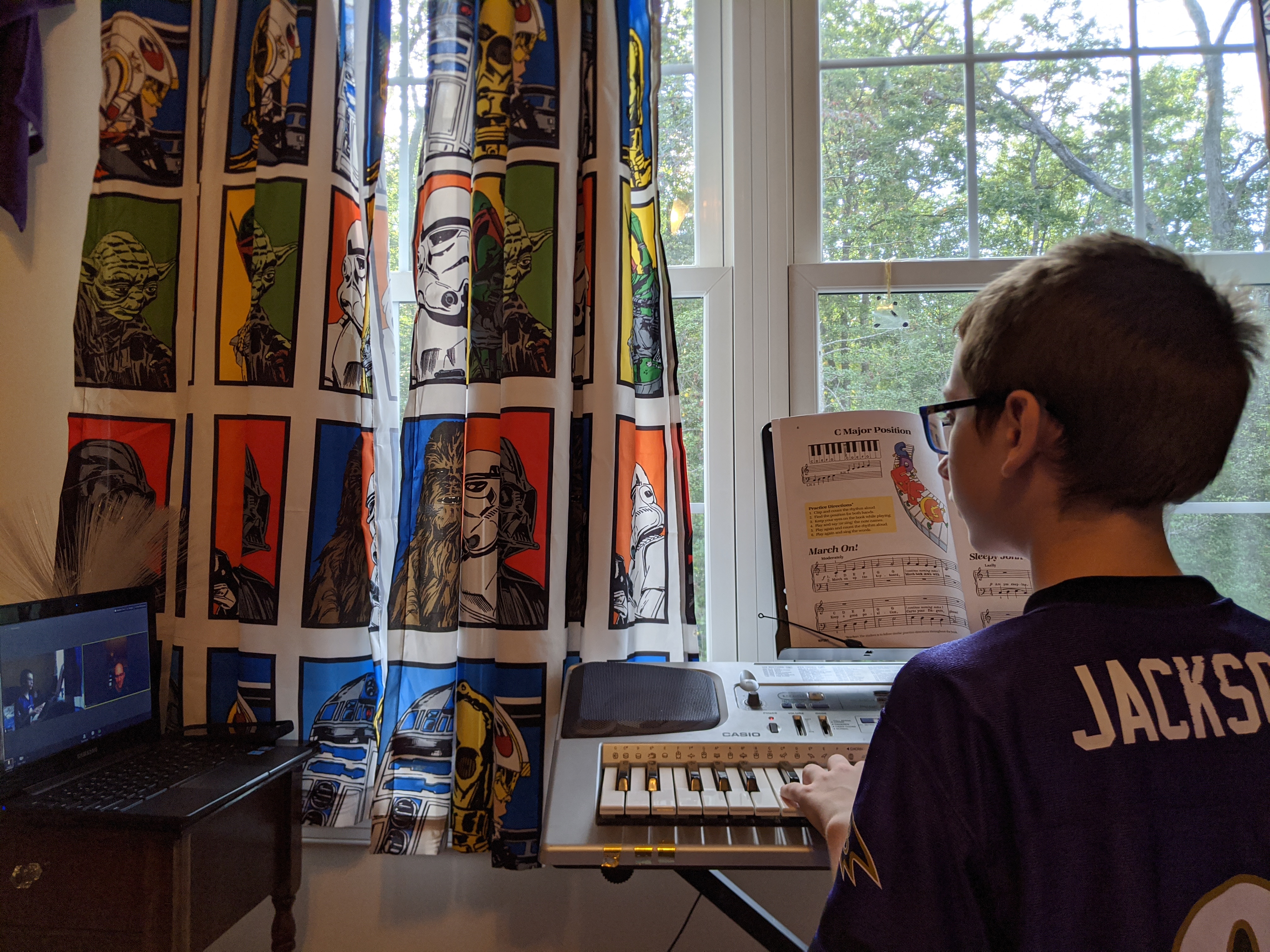 Music & Arts is able to help you get set up with many instruments so there are many options available. They also have the music books available and any other instrument accessories you may need. When I called to set up the lesson, the staff was friendly, happy to help, and able to answer any questions I had. Their expert instructors are skilled and knowledgeable. All instructors are also background-checked. Once I signed up, I received bio information specific to my instructor, information and details about the program, and details about the secure platform where the lessons take place. The instructor sends us the link to the secure platform every week for our lessons and it is super simple to login.
Our weekly lessons are what my son looks forward to every week. His instructor is fantastic at articulating instructions and gives constant feedback as he moves along. I love hearing how encouraging he is throughout the lesson. I look forward to seeing his progress in the coming weeks as he continues on his private lesson musical journey.
I know many of you also have music loving children at home who would benefit from this opportunity as well. Did I mention they also have lessons for adults? Now is the time! Check out details HERE to sign up for your own private music lesson. Sign up before October 31 and receive $50 off of your first month of lessons just by telling Music & Arts that you heard about them through Macaroni Kid and you will automatically be qualified for the offer!
Music & Arts
1200 Scaggsville Rd.
Unit 1
Laurel, MD 20723
240-568-0600
I was compensated for the purpose of this review. All opinions stated are my own.